Bridal Beauty
Bridal Beauty Checklist
Last Updated on Monday, 04 November 2013 23:31 Written by Administrator Thursday, 31 March 2011 23:51
This is the time in your life to focus on YOU before it becomes "Mr. and Mrs"! The photographs that you'll be a part of will be transformed into memories that will last a life time, that's why it is essential to have a team of beauty professionals to help you along the way!
Plan Ahead
You should begin planning your beauty goals at least 12 to 6 months before your wedding or event to correct skin issues such as acne, acne scarring, brown spots or tattoo removal.
Don't know where to begin?
Schedule a cosmetic consultation with Lindsay. Bring all your beauty concerns to a professional that knows what works. She will educate you on what you need to know and recommend the most beneficial skin care products and procedures.
Longer Lashes?
Make your own eyelashes grow longer, thicker and darker with Latisse. This prescription strength solution is applied to your lash line every evening. You will then begin seeing results in as little as 8-12 weeks. Schedule your free consultation today!
Exfoliate
Exfoliating your skin is a great way to brighten up blah dull skin. A series of chemical peels or diamond tip micro-dermabrasions are treatments that will improve fine lines and wrinkles, fade discolorations and improve acne. A series of treatments will give your skin the ultimate results!
Trial Run
For the bride that wants to play with different looks or color pallets they should book their trial consultation/application at least 4 to 5 months before the event date.
Shapely Eyebrows
Eyebrows that are arched and fuller give a more youthful appearance. Having the correct frame to the face can add a sophistication to any woman. So let over tweezed brows grow in and clean up brow shape every 3-4 weeks. The final brow shaping should be done the week before the event. Please avoid using topical acne medications or retin-a creams for at least one week before waxing.
Prep the Canvas
Schedule one of LindsayLondon's pampering illuminating facial treatments that will make your skin look fresh and healthy. Facial treatments are a great way to prep your skin for flawless make up applications.
Wax It Off!
Don't forget any facial or body waxing. For bikini waxing take an anti-inflammatory 30 minutes before your hair removal appointment to help with any discomfort.
Golden Glow
Porcelain skin is gorgeous but if you need a golden glow save your skin with a body bronzing treatment. Your skin is exfoliated from head to toe, hydrated silky smooth and then instantly bronzed. Color lasts for approximately 5-7 days. Please wear dark loose fitting clothing* if you need manicures, pedicures or body waxing make sure to do so before body bronzing or spray tanning appointments.
Wedding Day!
The day of your wedding your LindsayLondon Beauty Team will arrive promptly at your desired location to beautify you and your bridal party. It is recommended that you arrive with a bare face, dry hair, and a robe or button down shirt for a easier application. Please remember to bring a lipstick or gloss for touchups throughout the evening. For best results please try to provide us with a location with as much natural light as possible, and electrical outlet access.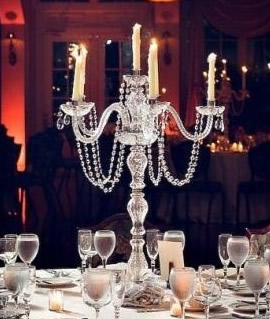 Rent these Candelabras for your wedding or next elegant special occasion. Also ask about our Uplighting packages...
"Lindsay was great! She went above and beyond what anyone could ask for and I am so grateful to her! I didn't have to worry about any touch-ups the whole night! I HIGHLY recommend!!"
--Kendra, 6/21/12